Wat Chalong is the most important of the 29 Buddhist temples of Phuket (Thai:วัดฉลอง or วัดไชยธาราราม), located in tambon Chalong, Mueang Phuket district. It is dedicated to two highly venerable monks, Luang Pho Chaem (หลวงพ่อแช่ม) and Luang Pho Chuang (หลวงพ่อช่วง), who with their knowledge of herbal medicine helped the injured of a tin miners rebellion in 1876.
The Grand Pagoda contains a splinter of Lord Buddha's bone and is officially named Phramahathatchedi – Jomthaibarameepragat. The pagoda is decorated with wall paintings depicting the Buddha's life story and also features various Buddha images.
The temple's halls features a gilt-covered statue of Luang Poh Cham and this hall also contains statues of Luang Poh Chuang and Luang Poh Gleum, former abbots of temple.
Poh Than Jao Wat is one of the more important Buddhist statues in Wat Chalong. It is located in the westerly old hall of the temple, with two statues of an elderly gentleman called Ta Khee-lek (grandpa Khee-lek), a famouslocal who won many lotteries after consulting the Poh Than Jao Wat statue. Another statue in this hall is Nonsi.
CHINESE Temples & Shrines 
Phuket has a large Chinese community. Therefor there are numerous Chinese temples and shrines. The vegetarian festival in October is concentrated around these shrines. In Phuket Town are the Put Jor and Jui Tui shrines on Ranong Road at the junction with Soi Phuthon. There is also the Shrine of the Serene Light tucked away off Phang Nga Road. Another is the Sam San shrine on Krabi Road near the junction
with Patiphat Road. One of the most ancient and most beautiful Chinese temples on Phuket, is Put Yaw in Ranong Road. This temple documents the great influence of the Chinese people in Thai culture. The main temple is dedicated to Kuan Yin, the goddess of grace.
Important Chinese shrines of Phuket are:
Gim Tsu Ong Shrine Chinese Temple Ban Don Thalang
Jang Ong Shrine Chinese Temple at Yaowarat Road Phuket Town
Karon Plaza Shrine a small Chinese Temple at Karon Beach
Lim Woo Tai Seu Shrine (Samkong Shrine) Temple at Yaowarat Road Phuket Town
Sapam Shrine (Kuan Te Kun Shrine) Chinese Temple at Nakhon Road Phuket Town
Pun Tuao Kong Shrine Chinese Temple on the top of Route 4029 from Patong
Beach to Phuket Town
Bang Neow Shrine (Tao Bo Kee Ong Shrine) Chinese Temple at Phuket Road Phuket Town
Put Yaw Temple at Ranong Road Phuket Town, the oldest Chinese Temple in Phuket
Tha Reua Shrine Chinese Temple at Thep Krasattri Road Phuket Town
Time mentioned on the radar is GMT or UTC (Thai time is UTC + 7hours) and there is a broadcast delay of 20 minutes. The Thai Meteorological Department Phuket Radar is occasionally offline. Alternatives are the weather in Krabi Krabi Weather or the Surat Thani Weather Radar.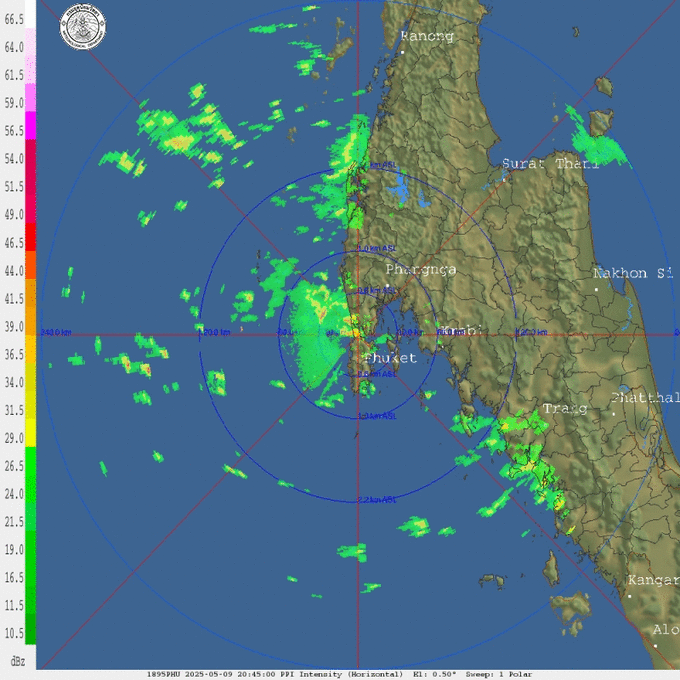 Thailand is organized on provincial level in the following way. Province (changwat) District (amphoe) Subdistrict (tambon) Village (moo or muban). If you like this you can rent a private pool villa in Phuket. Be mindful about the sunrise and sunset near Phuket International airport. A private pool villa at a lake is a perfect way to enjoy the Phuket weather. Even better in a secluded gardens casa surrounded by natural mountains. Close to NaiThon Beach and NaiYang Beach. The private pool villa is a world in itself, somewhere to escape from the hassle of the rat-race and just enjoy. Total relaxation and peace along with natures own beauty. Sirinat National park is in vicinity of the accommodation. Villa is wonderful place to stay with friends. Villa is completely furnished and has everything needed to make your stay as enjoyable and comfortable as possible. The private pool villa has 5 rooms and spacious outdoor terraces. There is a fully fitted kitchen, dining room and comfortable living room with lake view. All rooms can be air conditioned. Villa can easily accommodate 6 friends. There is outdoor dining with lighting for the enjoyable evening meals. Dining with 6, 8 or more people is no problem. Friendly staff welcomes singles or professionals on retreat; retraite and people concentrating on a new task.
Also in the Villa are sun loungers and easy chairs along with ample shield to the sun. The outside private pool with cosy ceramic tiles and lighting is perfect for those night time swims. Two different kind of beaches are just around the corner. Only 5 minutes is the quiet upmarket Naithon Beach. Nai Yang beach is one of the largest stretches of beach on the island and has an array of bars, restaurants, massage salons, hairdressers and tailors. Nai Yang beach is also popular to locals. Playing Golf? Phuket is famous for some of the best golf courses in the world and the villa is only a stones throw away. Within a few miles we have the Blue Canyon Country club, Loch Palm Golf Club, Mission Hills Club to name but a few. A good local bus service that passes at 1 km from the villa brings you to shopping mall or Phuket Town. Taxi's can bring you from door to door anywhere in Phuket. Phuket is a small island so nowhere is far, to get from one end of the island to the other only takes 45 minutes, everything is in easy reach. Wheelchair access is available at most places. Phuket International Airport, Shopping Mall and Town are easy to reach. Larger shopping malls are only a 20 minutes drive. Local stores that sell most things you would need are just on minutes walk.
A Villa should have a fully fitted European kitchen complete with gas oven, fridge freezer & microwave. Large open plan furnished living room & dining room are nice places for relaxing. Bathroom en-suite to master bedroom with bath shower, hand basin & WC. Bathroom next to two other bedrooms. Downstairs is a bathroom.
The North of Phuket is called Amphoe Thalang, an administrative district of Phuket. Thalang has 6 sub-districts 'tambon' are in Thalang: Thep Krasasttri, Si Sunthon, Cherng Talay, Pa Khlok, Mai Khao and Sakhu. In this district there are two small cities: Thep Krasattri and Cherng Taley. Cherngtalay Sub-districts Village No. (moo) 1, Cherngtalay Village
Village No. (moo) 2, Bang Tao Nai Village
Village No. (moo) 3 Surin Beach
Village No. (moo) 4, Pasak Village
Village No. (moo) 4 in Ban Nai Thon
Village No. (moo) 5 in Bang Tao Nok Village
Village No. (moo) 6 in Ban Khok Tanot
The district's major attractions are: the Gibbon Rehabilitation camp, the National Museum Thalang (near the battlefield of the "Battle of Thalang" where the women, in 1785, defeated the Burmese army), the 22 km² large Nature Park "Khao Phra Thaeo" (with waterfalls and wildlife), the Temple "Wat Phra Thong" (with Golden Buddha), and the 90 km² big National Park "Sirinat" with mangrove forests. Along the coast there are wonderful and kilometers long white sandy beaches. Some are perfect to relax and enjoy the peace under the palm trees, some are ideal for watersport activities like (kite)surfing.
Phuket International Airport & Highway 402 from the Sarasin Bridge (Pak Prah Strait) in the north and Phuket city in the south. Feel free to ask for Information about accommodation.
Phuket is an island connected to the mainland Phang Nga Province. Phuket it is also surrounded by some nice small islands.
Kaew Pisadan Island is a small island around the south of Laem Promthep. It is 3 kilometers from Rawai Beach and takes 15 minutes by boat. The island has a temple and an imitation of the Lord Buddha's footprint.
Loan Island is a large island at the south near Chalong Bay. It takes just 20 minutes to get there. There is a fishing community, the admosphere is serene. There are some hotels on the island.
Bon Island is a small island south of Phuket. The beach is white and shallow, good for swimming.
Hey Island (Coral Island) is at the southest of Laem Pamwa. It is one of the islands under the forest protection of the Fisheries Department. There are two beaches on the island, one at the north and one at the east. They have white sand and 100 meters of coral reefs. Because of the abundance in coral formation, this island is good for scuba diving and snorkeling. There is a hotel, restaurant an water sports services on the island.
Racha Yai Island (Raya Island) has clear water and the sand is white. The beaches are in the west between the hills.The area is horseshoe shaped and is called " Ao Namta Tok" (Bay of Tears) or 'Ao Bungalow'. The best sites  for snorkeling are Ao Siam, Ao Tue and Ao Kon Kae. On the hilltop at the south of the island, there is a viewpoint that offers a view of the area.
Racha Noi Island (Raya Noi Island) is located 10 kilometers fro Racha Yai Island. It was formed by layers upon layers of corals so there are more rocks here. There is a small bay to dock boats. The area is not suitable for swimming, it is used for fishing. Both Racha Yai and Racha Noi can be reached from Chalong Bay or Rawai Beach a long-tail boat takes about two hours; a speed boat one hour.
Mai Ton is a small, peaceful island located on the southeast of Phuket. The beach has white sand and the water is crystal clear, ideal for swimming and fishing. There is af ferry from the Phuket Deep Sea Pier.
Tapao Yai Island is on the southwest of Phuket. Here are hornbills living on Tapao Yai. Take a boat from Ao Makam that brings you in about 10 minutes.
Rang Yai Island is located at the east of Phuket. It is a small island where tour operators bring their clients to spend the day visiting the pearl farm, canoeing, bicycling, and playing minigolf. There is a seafood restaurant on the island. Boats run from the Phuket Boat Lagoon or Laem Hin Pier.
Coconut Island is also located on the east side. The small community living on the island does fishing and agriculture. Ferry rides from Laem Hin will take about 15 minutes.
Sirey Island covers an approximate area of 20 square kilometers and is situated on the southeast of Phuket. The two islands are separated by the Ta Jin Canal and are joined together by a bridge. Sitting on the hill top of Sirey Island Temple, is a large Buddha Image. Around Laem Tuk-Kae, is the largest fishing village of Phuket.
The three main Habors of Phuket from North to South.
Phuket Yacht Haven
Located at Laem Phrao, east of the bridge at the head of the channel, is The Yacht Haven Marina, completed in 1997 with 150 berths for vessels up to 60 metres.
Yacht Haven can be accessed from the east on all tides, though deep draft vessels need to take additional care to follow the channel during lows.
A great advantage of the Yacht Haven is its proximity to Phang Nga Bay.
Laem Phrao is a safe year-round anchorage place with Yacht Haven providing berthing.
Berthing is available for vessels up to 60 metres on the outer berths with depths of 4 – 5 meters and the minimum depth in the smaller berths is 2 metres at LAT.
On shore is the Haven Restaurant and Bar, showers, lockers and toilet facilities. The Yacht Haven also has fuel, water and provisioning services.
Laem Phrao, VHF Channel 68
Address: 141/2 Moo 2, Mai Khao, Thalang, Phuket 83110
Tel: 076 206 704-5 – Fax: 076 206 706
Phuket Boat Lagoon
The Boat Lagoon was Phuket's first marina complex. It has been fully operational since 1994. Short and long term accommodation is available overlooking the marina.
Services: a fuel dock, three travel lifts up to 60 tons, a large concrete work area and hardstand for up to 80 vessels, dry stack storage for 20 speedboats, 168 wet berths with power and water, a concrete boat ramp, hot showers and changing room facilities; and many yacht service companies with on-site management.
Sapam Bay, VHF Channel 71
Address: 22/1 Thepkasattri Rd, Phuket 83000
Tel: 076 239 055 – Fax: 076 239 056
Royal Phuket Marina
Royal Phuket Marina is islands most exclusive harbor in Phang Nga Bay.
350 berths and 400 luxury villas, penthouses and condominiums, it is also the islands only marina with a boat lock, non-tidal deepwater basin and private moorings on the doorstep of residences.The marina can accommodate vessels of up to 35 metres.
Sapam Bay, VHF Channel 79 International
Address: 68 Moo 2, Thepkrasattri Rd, Kohkaew, Phuket 83200